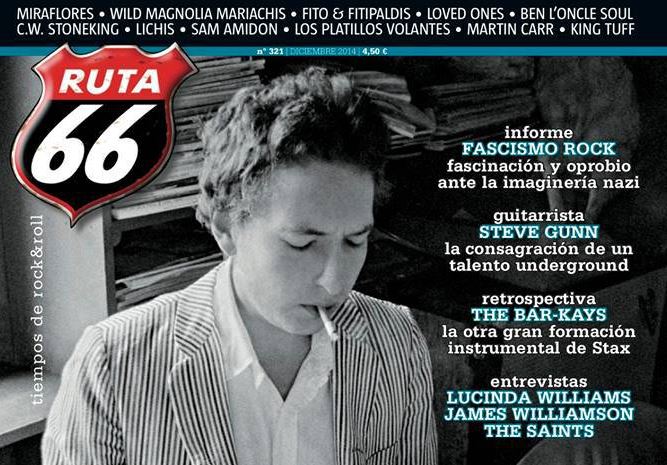 Wild Magnolia Mariachis Interview
66: First, give us a little presentation for the Spanish audience. Tell me everything about your career, please.
We are The Wild Magnolia Mariachis from Munich and we play Rock'n'Roll. We had our first gig at a chicken farm in 1997 and people went nuts (including us) so we started it for real. We recorded our first demo "Rock'n'Roll O Muerte" and soon became a well known act all over Bavaria. We played with Steppenwolf, Ten Years After and Roykey to name a few and recorded the longplayer "We Drink More Than Keith" which is now sold out. After 150 gigs we closed the Mariachi chapter in 2002 and revived the band due to being asked over and over again when we would play again in 2011 and had so much fun with it that from now on we decided to never quit again and rock the stages since there is too many ballad-wrenching-pop-serious-sad-whatever bands in the world that make people cry, we want to make people laugh and have a good time, an art form in music that seems to be forgotten these days…
66: Second, what about your name. What's the origin?
Our drummer Christos and me watched the concert film "Willy DeVille Live In Paris" where the Wild Magnolias appear, who are Indian Mardi Gras artists and we thought they looked really cool, the Mariachis part comes from the movie "From Dusk Till Dawn" when Tito and Tarantula perform at the Titty Twister and turn into vampires. At our first gig the name was "Chicano Mink and the Wild Magnolia Mariachis", later we had to drop Chicano Mink (you can see the reference to Willy DeVille here again), because it was too long.
66:Which song represents your music in your album Boogie Indians best?
Hmm…it's hard to pick out just one song…I would say a song like Boogie Indians is a good example for our rockin' rollin' boogie party songs and Chicago Bound represents very well the shuffle and swing and soul side this band also loves to play. Both styles are represented to the same amount on the record and at our live gigs.
66: Why this title, Boogie Indians?
Most people on this planet think it would be cool to have a fast car, a big titted chick and shit loads of money…we think nothing is cooler than to play rock'n'roll and be a real tough antisocial motherfucker, like the native americans, wild and noble…we are all working tough and very nice and gentle…so there is difference between the guys on stage and the guys behind it….
66: How would you define your music? Americana? Blues? Indie?
That's a good question we cannot answer…we have been asked this so often that we should know by now, but we don't….I would say it's GoodTimeRock'n'RollDownToTheBonesBoogie'n'BluesSoulAndEvenMoreBoogie
66: What about the covers on the album?
Five  songs are self-penned plus the hidden track. We had a long break before reuniting and wanted to make a CD that represents the band how it sounds now, so we decided to include covers as well, even if that meant to have more covers than originals. As covers we chose those songs that worked live well and still sounded like us. And it is always a lot of work to bring in the horn section. And you have to choose wisely, we play live Motörhead's Going To Brazil including horns and piano and shit, but it would not have fit on the record…On the next record there will be more originals though, we are working on the new songs and hope we can enter the studio ext year.
66: What are the influences that came out in the album?
Well everything we listen to: Rock'n'Roll, Rockabilly, Blues, Soul, Hard Rock, Metal, Hip Hop…ok, forget about Metal and Hip Hop, that we only listen to….
66: You are from Germany. Is possible speak about the rock scene in your country?
Well any music scene in Germany is very much alive which on the one hand is cool, on the other hand it is a curse. Promoters don't really know who is who and you can go to a gig with 4 bands and all of them are great or they all suck..it's hard to get as many as gigs as we were used to when we played up to 3 gigs a month and went touring occasionally. That shit is hard to plan in Germany these days, be it in Jazz, Rockabilly, Metal or any other music form. There simply are too many bands. And the next thing, we have at the moment 28 cities where you can study Jazz, so every half a year you got tons of musicians who  want to play somewhere and most of them go into the Rock or Pop scene…I don't know where this will lead…but we still get our gigs, though it's harder now.
66: I read in a review of the album "Crack a few cans, pump up the jukebox, crank up the volume and party like it was yesterday!". Is it your philosophy?
Absomotherfuckinglutely!! Everbody wants to say something and has a message nowadays, which I have in my lyrics too, but we want the people to dance to it, have fun, don't think about nothing and see a good  Rock'n'Roll show! I mean we know how to play our instruments, so it's not like a Pub band of friends, but we try  to entertain people on a high energy level and make 'em want to drink beer and maybe have sex with their loved ones..yeah, I think that is almost a spiritual intention!
66: Is possible to watch you in concert in Spain coming soon?
Up to now nothing is planned in Spain cause it would mean we would have to be there for more than one gig, but I am in contact with promoters all  the time and hope it will be possible in the future…